Regular price
Sale price
$7.49 USD
Unit price
per
Sale
Sold out
Areas of skin Darker skinned Skin color Dark skin Skin care Skin damage
Darker skin tones Skin tone Dark spot Skin lightening products Skin lightening creams
Lighter skinned Acne scars Kojic acid Melanin in the skin Side effects Light skin Natural ingredients
TAKE IT OFF DEEP CLEANSING CREAM
LIGHTENING + MOISTURIZING MAKEUP REMOVER
50 GMS. 
Gentle, non-stripping cleanser and makeup remover that actually works. This luxurious mixture glides over the skin creating a cushion between the face and hands for a smooth, divine experience to dissolve long-wear and waterproof makeup with a light sweep of a cotton pad.
Essential ingredients help improve hydration for a more youthful-looking complexion to leave skin silky soft, supple and smooth. Suitable for the eye area. Removes makeup and impurities leaving no residual or greasy after-feel. Alcohol-free. Enriched with Vitamin B3 and Natural Sugar Beet Extract.
Remember: Never go to bed with makeup on. Clean skin starts with healthy skin that breathes.
Directions:
Swab an amount of Take it Off Deep Cleansing Cream onto a cotton ball and gently wipe the day away. Apply on face and/or neck rubbing gently in a circular upward motion. Removes even the most stubborn makeup while lightening and nourishing your skin.
For best results, follow with K Magic Facial Wash and K Magic Face cream to achieve a clean, clear dewy complexion. Spritz with K Magic Micellar Toner Mist to add and seal in the glow.

STORAGE CONDITION:
Store in a clean, dry place at temperatures not exceeding 30C. Avoid direct exposure to sunlight and heat. Keep an opened jar/ bottle/product for no more than 18 months, and an unopened bottle for no more than three years. It is also important that you store them in a cool place and away from humidity or heat. 
Note: Keep an opened product for no more than 12 months, and an unopened product for no more than a year. 
 INGREDIENTS: 
Water, Mineral Oil, Isopropyl Myristate, Beeswax, Glycol Stearate, Cetyl Alcohol, Ozokerite, Glycol Stearate, PEG-100 Stearate, Hydroxyethyl, Acrylate/Sodium Acryloyldimethytaurate Copolymer, Squalene, Polysorbate 60, Phenoxyethanol, Chlorphenesin, Glycerin, Sodium Borate, Citric Acid, Fragrance, Allantoin, Betaine, Niacinamide. 
NOT TESTED ON ANIMALS  
We do not test on animals and do not pay others to do so. For this reason, none of our brands are sold in mainland China since such sales require animal testing for registration purposes.
NEVER EVER: Sulfates, Parabens, Phthalates, Cocamidopropyl Betaine, Cocamidopropyl Hydroxysuitaine, Phenoxyethanol, Mercury ( and the 1,400 ingredients prohibited in the EU).
Your purchase helps fund various advocacies and access to safe products and advances in research and education that support healthy, happy lives for all.
Works best with these:
 K Magic Multi-Functional Facial Cream 
Share
View full details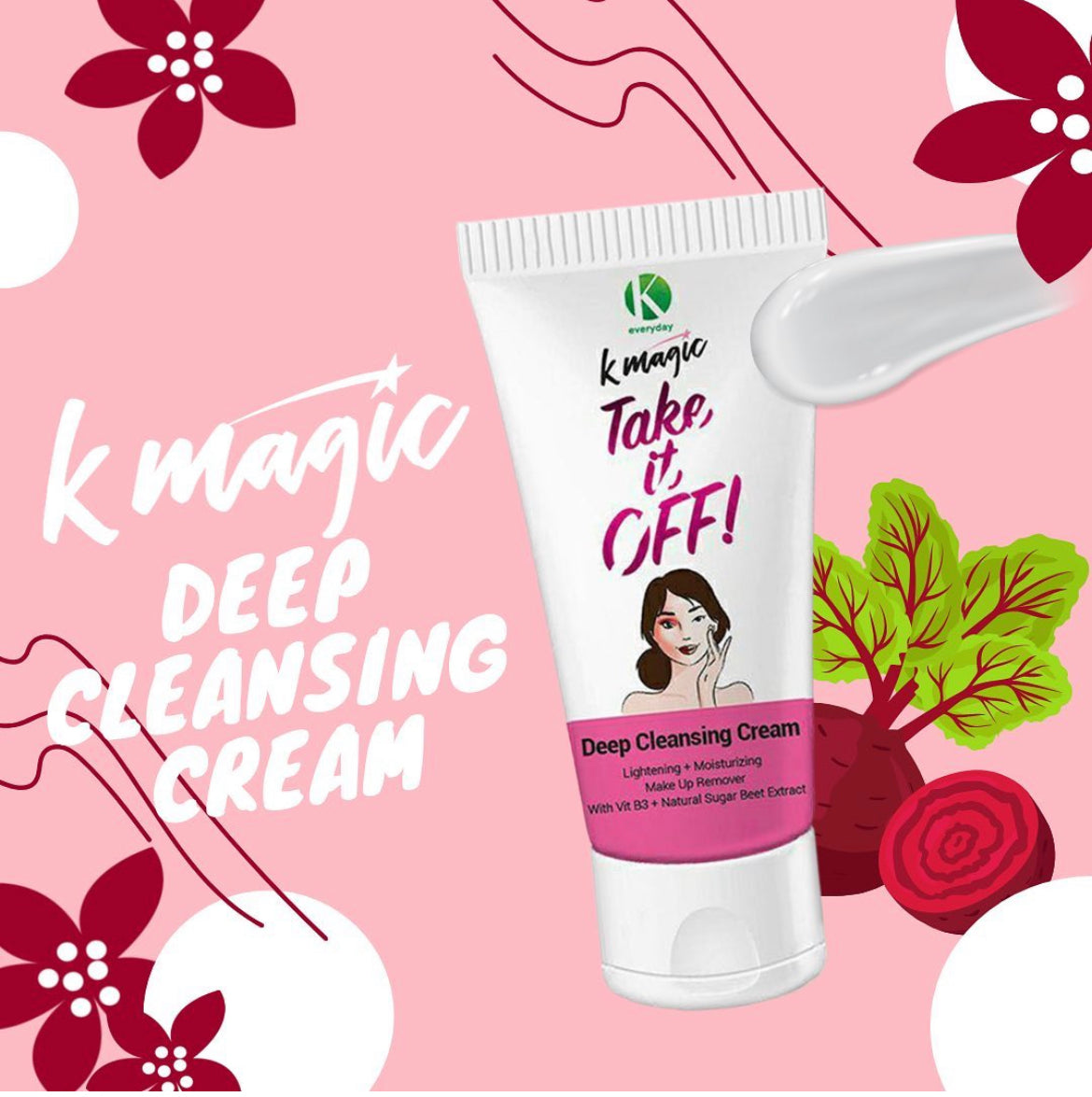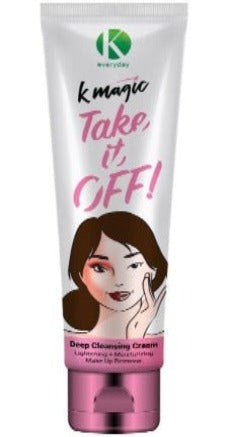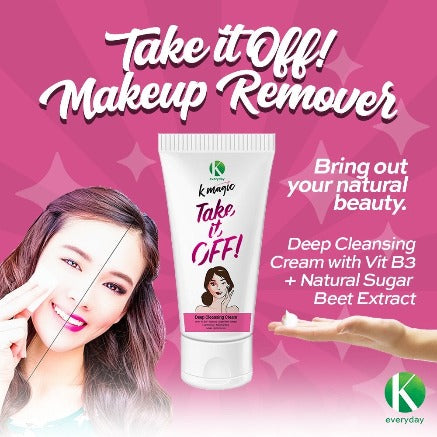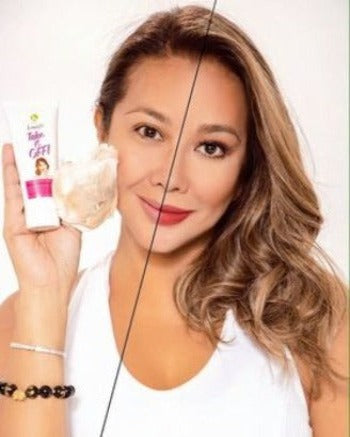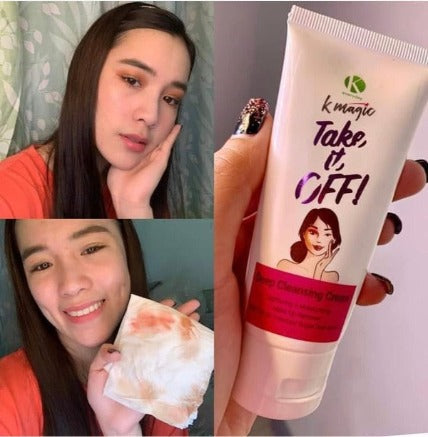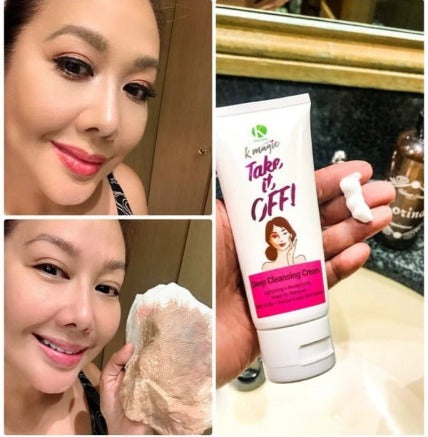 Cream! I will order more!
Honestly, i didnt believe its going to work, but this cream is very good, lots of blackheads removed
TAKE IT OFF DEEP CLEANSING CREAM has been the best for cleansing my skin. The best cleansing cream there is to reveal fresh skin....dirty skin equals pimples, acne, etc. We don't like that!
The K Magic Cleansing cream is the best I have used for all these years..plus it is reasonably priced that I was willing to even pay for extra shipping just to receive it fast! I work for a hotel so makeup is a necessity. This is the one that made my skin feel squealy clean and dewy....plus I use their face creams, face wash and serums..everything on their product line is the best!