Regular price
Sale price
$15.99 USD
Unit price
per
Sale
Sold out
Areas of skin Darker skinned Skin color Dark skin Skin care Skin damage
Darker skin tones Skin tone Dark spot Skin lightening products Skin lightening creams
Lighter skinned Acne scars Kojic acid Melanin in the skin Side effects Light skin Natural ingredients
NO MORE DARK UNDERARMS! 
The original product in the market for UNDERARM WHITENING
YOUR PERFECT PAIR: Odor Protection and Whiten Underarms.
TIME TO RAISE YOUR ARMS with CONFIDENCE!
CRUELTY-FREE
TOXIN-FREE
PLANT-BASED
WHAT'S INSIDE YOUR KIT: 
K Magic Kili Kili* Kit includes K Magic Anti Perspirant Whitening Deodorant roll-on 50 ml. and K Magic Underarm Whitening Serum 20 ml. 
   (* Kili-Kili is the Tagalog word for Underarms)
WHAT IT DOES: 
Alpha Arbutin 

is an ingredient obtained from the bearberry plant which is

 a superior lightening enhancer that is pure and water-soluble which gives skin a perfectly even tone.
Quali Vitamin B helps whiten skin plus an excellent natural osmolyte derived from sugar beets to help keep underarms moisturized.
Anti-Perspirant
Moisturizes
Whitens
Odor Protection
Fresh Scent
48-hour protection from a convenient roll-on that dries fast
Mercury and Phthalate-Free
DIRECTIONS:
1- Use the deo roll-on with its antiperspirant, whitening and deodorizing properties to keep underarms even-toned, plus a moisturizing agent that helps keeps underarms smooth and soft. Let dry. 
2- Allow for the K Magic Deo roll on to dry then apply a pea-sized amount of the K Magic Underarm Whitening Serum. Let dry before dressing up. 
 Note: Keep an opened product for no more than 12 months, and an unopened product for no more than a year. 
You can try these individual sizes:
Caution: For external use only. Do not apply on irritated and damaged skin. Avoid direct contact with eyes. If contact occurs, flush thoroughly with water. In case of irritation, discontinue use and consult your doctor.
Storage: Store in a clean, dry place with temperatures not exceeding 30°. Avoid direct exposure to sunlight and heat. Exposure to extreme weather conditions, especially heat can liquefy the cream. Keep an opened jar/ bottle/product for no more than 18 months, and an unopened bottle for no more than three years. It is also important that you store them in a cool place and away from humidity or heat. 
Results vary per individual.  
NOT TESTED ON ANIMALS 
We do not test on animals and do not pay others to do so. For this reason, none of our brands are sold in mainland China since such sales require animal testing for registration purposes.
 Ingredients for Deo Roll-On: Jojoba Oil, Avocado Oil, Sunflower Oil, Schizandra Chinensis Fruit Extract, Alpha Arbutin, Quali Vitamin B3, Cyclopentasiloxane, Cetearyl Alcohol, Triethyl Citrate, Butylene Glycol, Jojoba Esters, Diglyceride, Methyl Glucose Sesquis Stearate, Dipropylene Glycol, Ceteareth-20, Glycerin-26, Methyl Gluceth-2
Ingredients for the Serum: Water, C 21-28, Alkane, Dimethicone, Emulsifying Wax NF, Glycerine, Glycol Stearate, Stealth-2, Stealth-21, Betaine, Niacinamide, Phenoxyethanol, Propylene Glycol, Triethanolamine, Fragrance, Carbomer, EDTA, Alpha Arbutin, Butylated Hydroxytoluene
NEVER EVER: Sulfates, Parabens, Phthalates, Cocamidopropyl Betaine, Cocamidopropyl Hydroxysuitaine, Phenoxyethanol, Mercury ( and the 1,400 ingredients prohibited in the EU )
Your purchase helps fund various advocacies and access to safe products and advances in research and education that support healthy, happy lives for all.
Share
View full details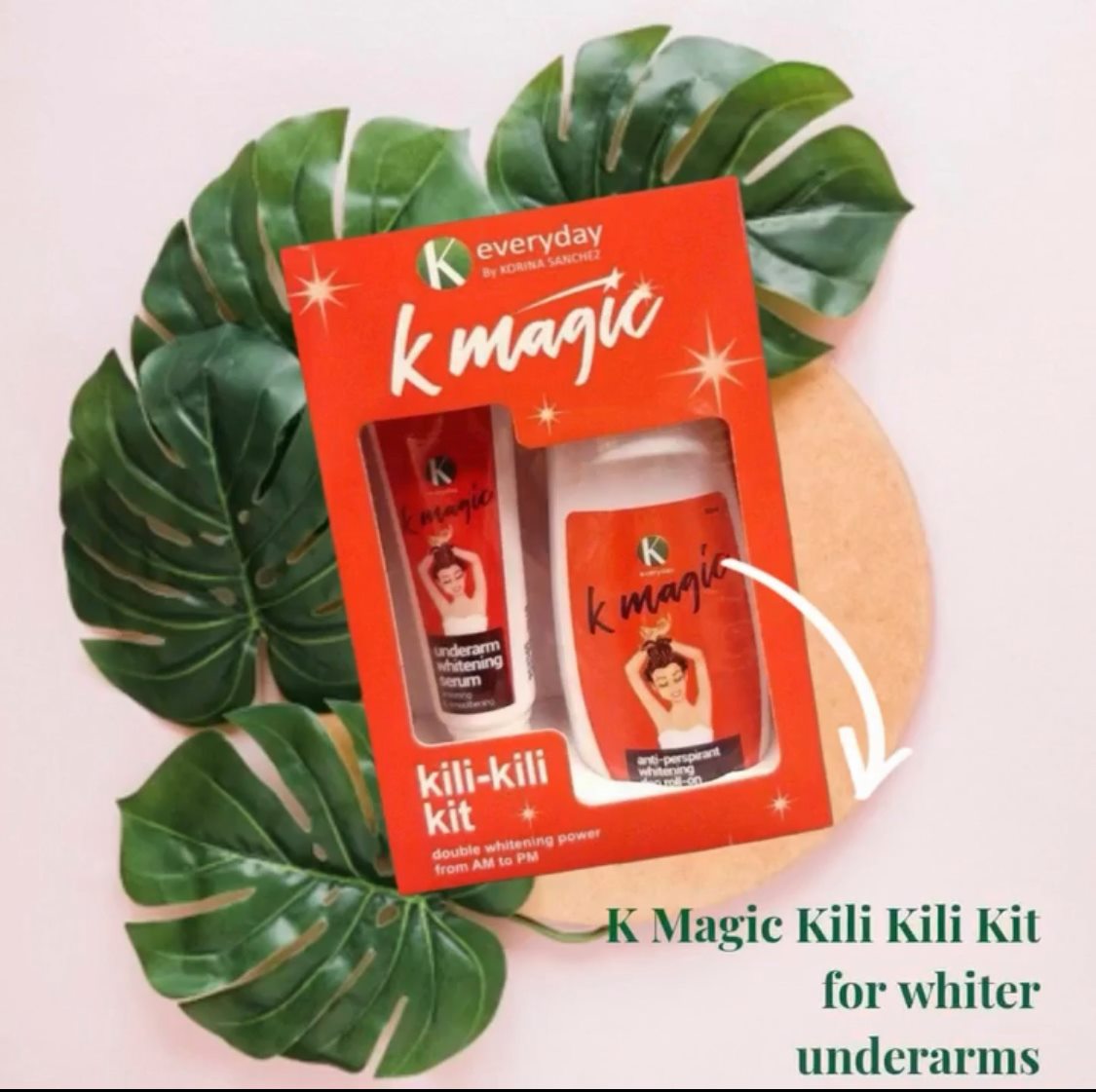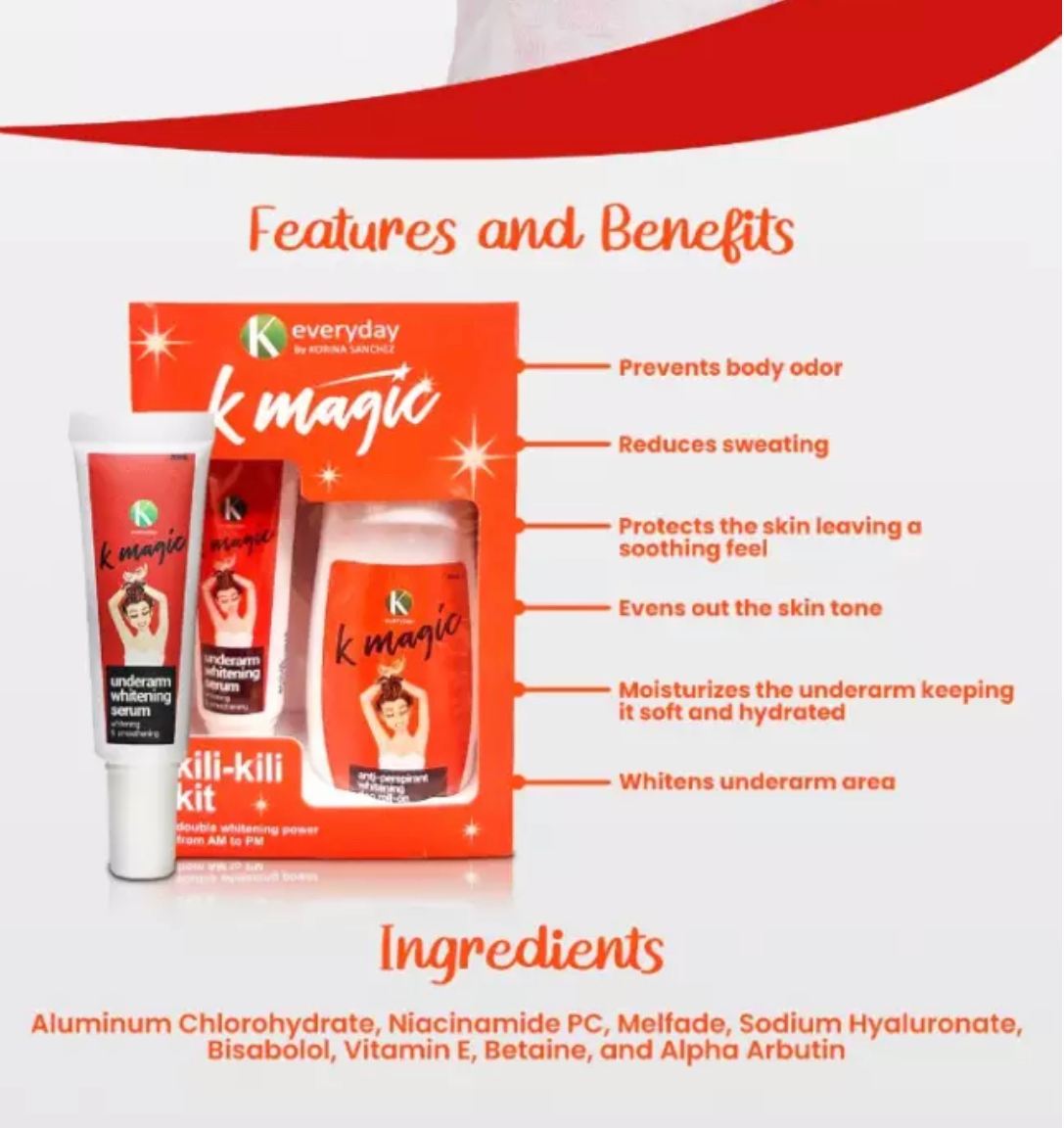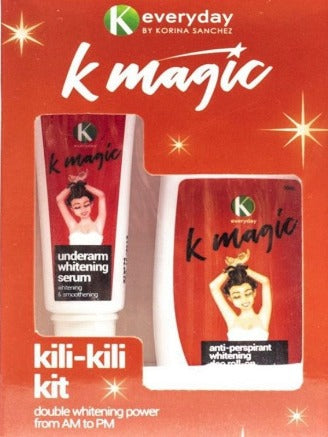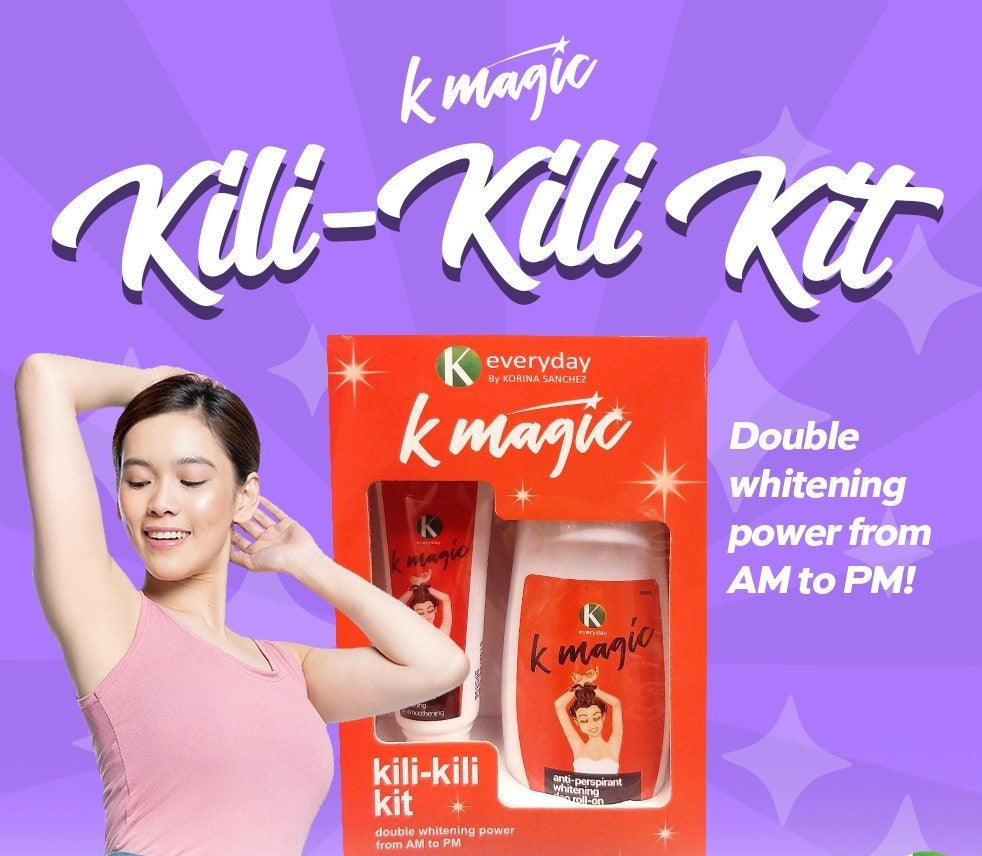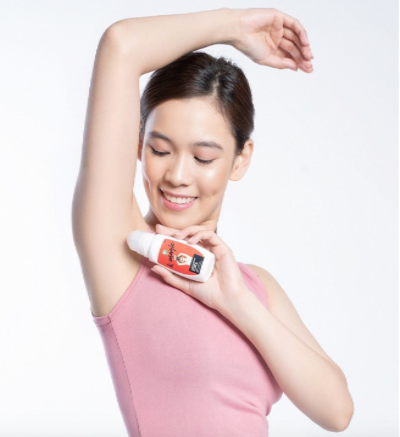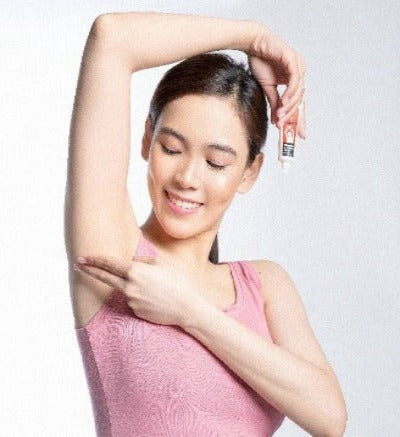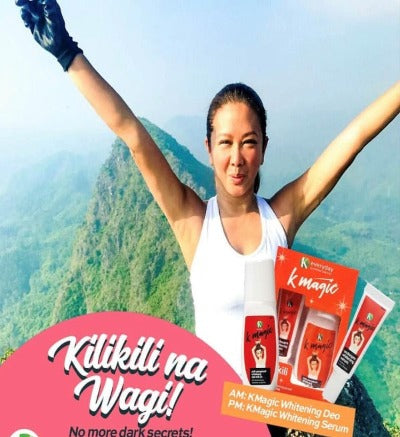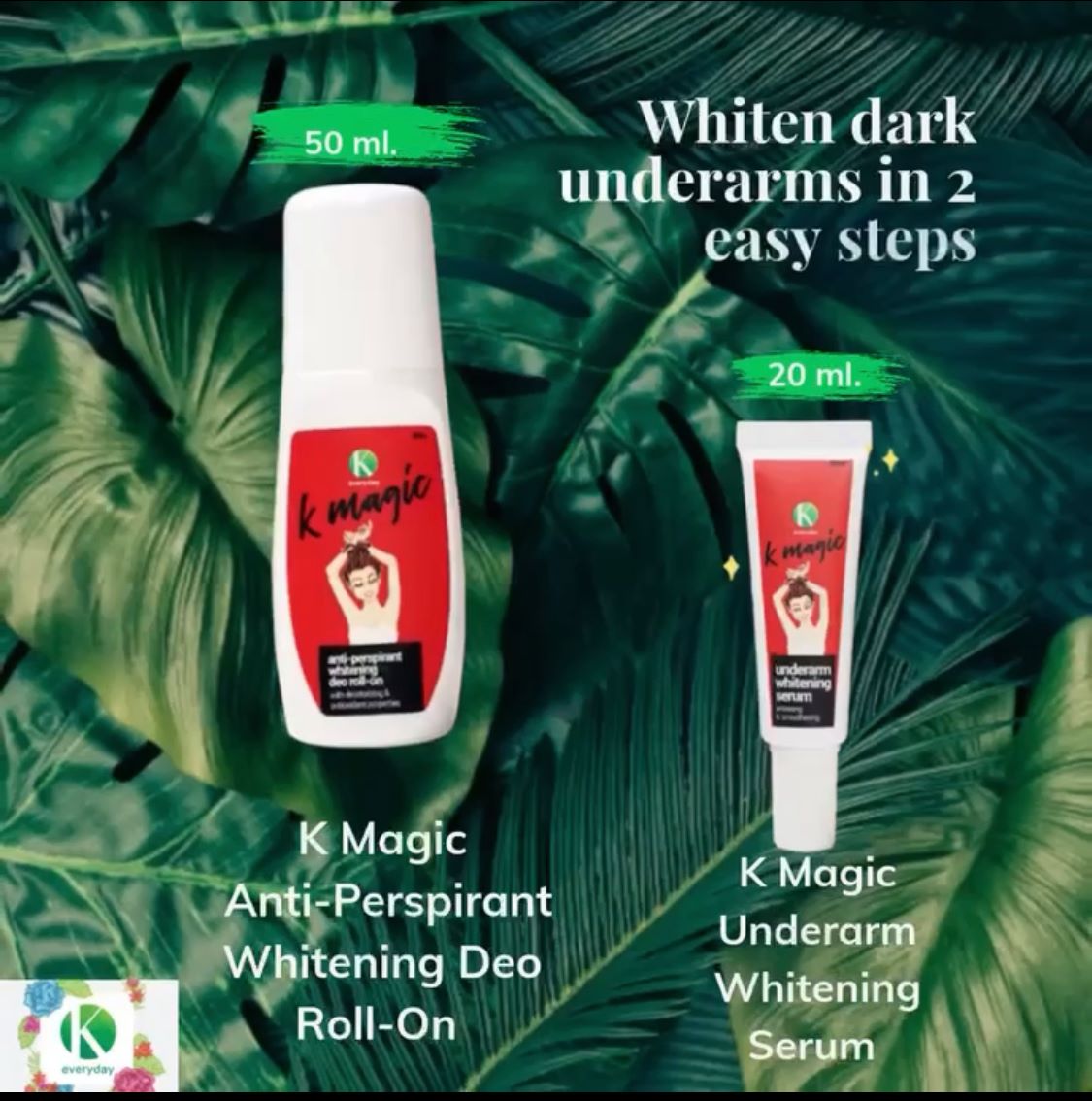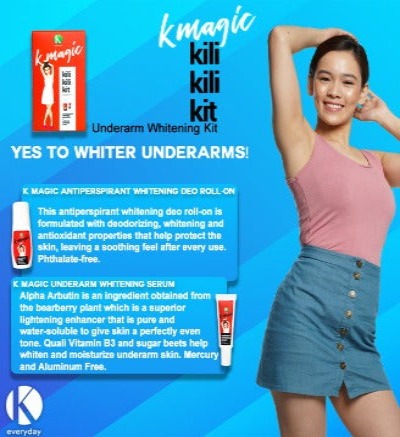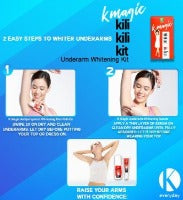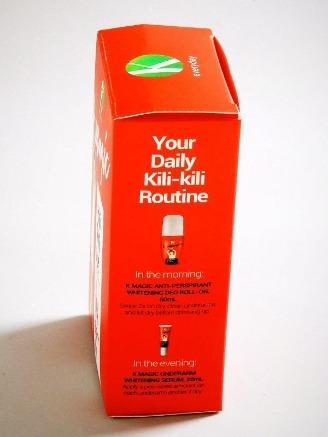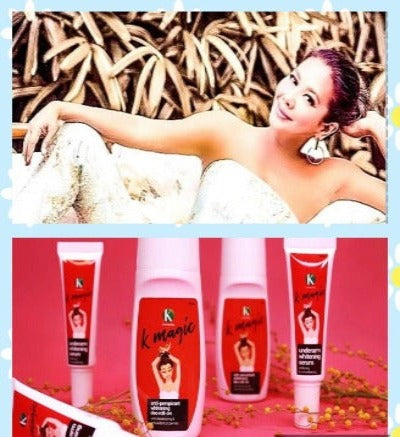 Good product
It's helps my skin brighter
K Magic Kili-Kili Kit
It has been a week now since I started using and following the instructions. I have not seen any result yet. It might take a while but the good thing is I am not allergic to the roll on and cream. I will give my feed back as soon as I see the result.
Awesome
I think it's work on my kili kili..I'm going to order soon..is their a bigger size for the serum if get i wanna get it to..thank you
Hello Vangie! Nice to know that you are seeing improvements. Thank you for your feedback. We appreciate and glad to have you as a K Beauty!