Regular price
Sale price
$23.49 USD
Unit price
per
Sale
Sold out
Areas of skin Darker skinned Skin color Dark skin Skin care Skin damage
Darker skin tones Skin tone Dark spot Skin lightening products Skin lightening creams
Lighter skinned Acne scars Kojic acid Melanin in the skin Side effects Light skin Natural ingredients
HELLO, GLOWING DEWY FACE! 
Let your face have a little good, clean fun
This complete 3-in-1 kit is all you need to prevent acne-causing bacteria
Cleanse, smoothen and moisturize
for a dewy glow
CRUELTY-FREE
TOXIN-FREE  
        WHAT'S INSIDE YOUR KIT: 
PAMPA-LINIS ( cleansing) : Facial Wash




100 ml.

PAMPA-KINIS ( smoothing):  Micellar Toner




60 ml.

PAMPA-GLOW ( radiance): Skin Cream 15 gms.
K Magic PamPa Kit is used for the treatment and prevention of minor causes of pimples, blackheads, and whiteheads. It helps to remove acne-causing bacteria. It also helps whiten dark spots, blemishes, and other discolorations such as freckles and age spots to achieve glowing skin. 
Pampa Kit instructions:  
FACIAL WASH

:
Use as a first step daily to polish, soothe and soften away skin's imperfections which reduce breakouts to gently smooth away dull, rough and dead skin.  Evens skin tone to reveal a fresher, positively glowing, and youthful complexion.( 120 ml.)
MICELLAR TONER: After cleansing, use this innovative 3-in-1 skin clarifier, conditioner, and hydrator to set the tone for a healthy-looking glow powered by the honey extract. Spray a small amount on a cotton pad and spread evenly on the face and neck in an upward motion. You may also spray the mist directly on your face ( don't forget to close your eyes!) and pat dry. 
Using a toner after cleansing helps clean skin, restore the pH balance, and shrink the appearance of pores to reveal flawless, supple skin for a soothing and nourishing effect. Use twice a day. (60 ml.) 
FACE CREAM: For your final beauty regimen, apply our bestselling K Magic Face Cream with micro-exfoliating agents to whiten, moisturize and smoothen skin with its anti-aging properties. It is best to apply this 30 minutes before sun exposure. Let your skin drink up and hydrate to achieve that dewy glow. Ideal for use day and night. ( 15 gms.)
You can try them individually:
K Magic Multi-Functional Body Cream
K Magic Multi-Functional Face  Cream 15 gms.
  K Magic Take It Off eyebrow and eyelash serum
K Magic Take It Off Cleansing Cream
 Tip: Always end your beauty routine with K Magic All Purpose Skin Cream for a fresh start to your day or for a spa-at-home finish every night.Results: In a consumer study of 325 women, after 4 weeks of use:
92% agreed skin felt clean after use
88% agreed skin felt refreshed after use
90% agreed skin showed no signs of makeup after use
Caution:
K Magic Body Cream contains Alpha Hydroxy Acid ( AHA) that may increase your skin's sensitivity to the sun and particularly the possibility of sunburn. Use sunscreen, wear protective clothing, and limit sun exposure while using this product and for a week afterward. For external use only. Avoid direct contact with eyes. If contact occurs, flush thoroughly with water. In case of irritation, discontinue use and consult your doctor.
Please note that the weight /grams of the cream are as stated on the container. The contents of the cream may shift during transit and settle differently when opened but this does not diminish the stated amount of grams contained in the product. 
Storage: Store in a clean, dry place with temperatures not exceeding 30°. Avoid direct exposure to sunlight and heat. Exposure to extreme weather conditions, especially heat can liquefy the cream. Keep an opened jar/ bottle/product for no more than 18 months, and an unopened bottle for no more than three years. It is also important that you store them in a cool place and away from humidity or heat. 
Note: Keep an opened product for no more than 12 months, and an unopened product for no more than a year. 
Results vary per individual.
NOT TESTED ON ANIMALS 
We do not test on animals and do not pay others to do so. For this reason, none of our brands are sold in mainland China since such sales require animal testing for registration purposes. 
Ingredients for Facial Wash: Water, Decyl Glucoside, Stearic Acid, Cetyl Alcohol, Glycol Stearate, Glycerin, Stearyl Alcohol, Betaine Niacinamide, Phenoxyethanol, Fragrance, Allantoin, Melaleuca Alternifolia ( Tea Tree),  Leaf Extract.
Ingredients for the Micellar Toner: Water, Decyl Glucoside, Glycerin, Phenoxyethanol, Peg-40, Hydrogenated Castor Oil, Aloe Leaf Juice, Betaine, Saccharide Isomerate, Fragrance, Allantoin, Melaleuca Alterifolia ( Tea Tree), Niacinamide, Leaf Oil, Menthol.
Ingredients for Skin Cream: 
Water, Glycol Stearate, C21-28, Alkane, Dimethicone, Emulsifying Wax NF, Stealth-2, Glycerin, Stealth-21, Propylene Glycol, Titanium Dioxide, Salicylic Acid, .04 Methyl Paraben, Glycolic Acid, Phenoxyethanol, .04 Propyl Paraben, Triethanolamine, Betaine, Fragrance, Carbomer, EDTA, Niacinamide, Butylated Hydroxytoluene, Alpha Arbutin.
NEVER EVER:  Sulfates, Phthalates, Cocamidopropyl Betaine, Cocamidopropyl Hydroxysuitaine, Phenoxyethanol, Mercury ( and the 1,400 ingredients prohibited in the EU)
Your purchase helps fund various advocacies and access to safe products and advances in research and education that support healthy, happy lives for all.
Share
View full details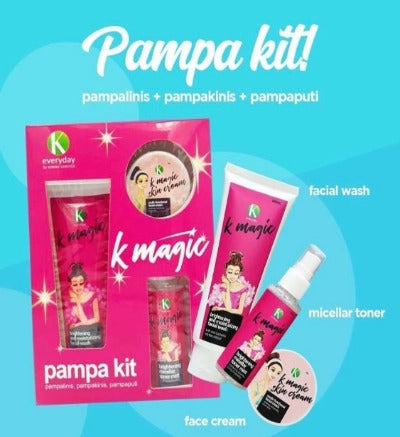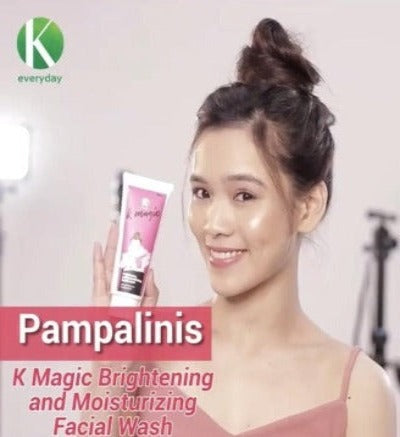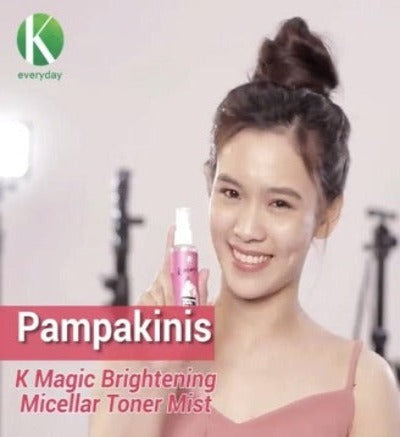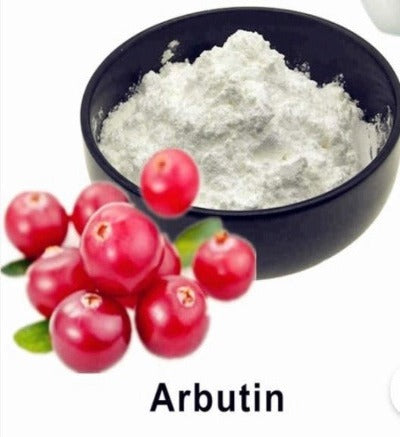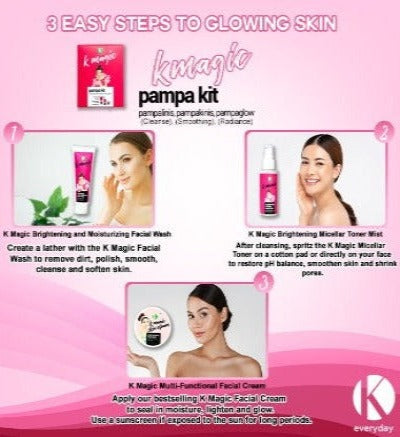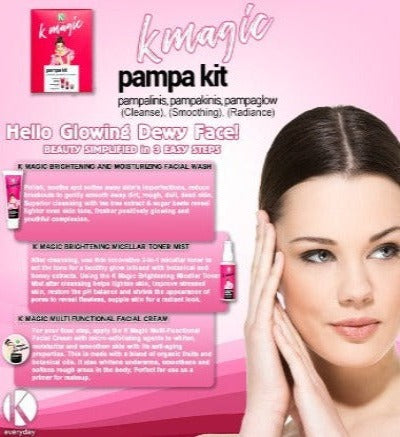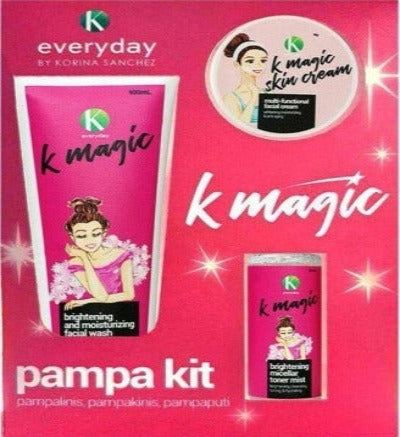 Too early to review
It's too early to review. Haven't seen results yet.
K Magic PamPa Kit for Face ( anti-aging in 3 steps)
K Magic PamPa Kit for Face ( anti-aging in 3 steps)
Pampa Kit for face and kili kili
Have tried it and have not seen any changes because its been like a week only but I can see that this product is worth buying.
they're really nice and convenient for me to take when I travel
They're really good on my skin, a lot of my pigmentation in my face are gone now.
Hello Maria! Thank you for your feedback. We strive to provide products that aim to serve your beauty needs. We appreciate your being a K Beauty!