Regular price
Sale price
$7.99 USD
Unit price
per
Sale
Sold out
Areas of skin Darker skinned Skin color Dark skin Skin care Skin damage
Darker skin tones Skin tone Dark spot Skin lightening products Skin lightening creams
Lighter skinned Acne scars Kojic acid Melanin in the skin Side effects Light skin Natural ingredients
Why have ONE when you can have THREE of the BEST in a soap?
What is GLuPaKo?
It's GLUthathione / PApaya/ KOjic Acid in one bar!
TRIPLE BENEFITS: Whitening + Moisturizing + Anti-Aging with Micro-Exfoliation that reveals beautiful glowing naturally radiant skin, for ageless beauty and younger-looking skin.
                                                  GLUTATHIONE 

Lightens the skin without side effects through antioxidants which help maintain dewy and youthful skin by slowing the death of cells, helping to maintain the health and vitality of skin cells.
Ideal to use for dark and uneven skin tone, age spots, hyperpigmentation, freckles, and melasma. 
                                                         PAPAYA
Powerful exfoliating properties are beneficial for removing layers of dead skin cells, inhibiting melanin, and

rejuvenating dry and flaky skin. 

 Continuous use hastens skin protein to break down, resulting in softer skin and a lighter complexion which can fade scars, and lighten freckles, and dark spots.
It does not leave deposits or residue on the skin. Can be used to treat acne. It contains an emollient such as palm oil which softens a new layer of skin to moisturize and reveal a clearer complexion.
                                                      KOJIC ACID

Kojic acid was discovered in Japan and is a by-product of malted rice and koji used in the production of rice wine.

It helps lighten visible sun damage, age spots, and acne scars, resulting in an anti-aging effect on the skin.

I

t works by exfoliating your skin by removing dead skin cells, excessive oil, and dirt. New fresh skin is revealed.
Responsible for reducing the production of melanin deep which stops the development of pigments that darken the skin.
Kojic is a natural product that provides a healthier alternative to chemical skin lighteners and provides the best results when papaya is the main ingredient.
Papaya extract combined with kojic acid works very effectively for whitening, lightening, and healing the skin.
CAUTION: As with any effective product, kojic acid soap should be used with caution. Because kojic acid reduces melanin production, your new, fresh skin will be much more sensitive to the sun. This means avoiding long exposure to direct sunlight as this may result in sunburn. Use sunscreen with at least 50 SPF.
INSTRUCTIONS:
Never apply Glupako directly on your face. Always mix it with water, lather and gently massage, and leave it no more than 30 seconds. To even your skin color, include your neck in the regimen.
Rinse with cold water to close the pores in your skin.
Dry your face by gently patting it with a soft face towel. For smoother skin, apply with K Magic Face cream or K Magic Multifunctional body cream after.
Your face is one of your body's most sensitive areas, so be gentle and cautious when using kojic acid for the first time.
GluPako can be used for the entire body, with special attention to dark areas you want to be lightened like knees, elbows, underarms, and feet.
INGREDIENTS:
Sodium Stearate and/or Sodium Myristate and /or Sodium Laurate and /or Sodium Cocoate, Aqua, Sodium Lactate, AOS, Titanium Dioxide, Aloe Barbadensis ( Aloe Vera) Extract, EDTA, Vitamin E, Carica Papaya ( Papaya Extract), Glutathione,  Kojic dipalmitate, CI 15510, FD & C Yellow # 5, FD& C Blue #1, Fragrance. 
STORAGE CONDITION:
Store at a temperature not exceeding 30 C. Keep an opened jar/ bottle/product for no more than 18 months, and an unopened bottle for no more than three years. It is also important that you store them in a cool place and away from humidity or heat. 
Results vary per individual.  
NOT TESTED ON ANIMALS  
We do not test on animals and do not pay others to do so. For this reason, none of our brands are sold in mainland China since such sales require animal testing for registration purposes.
NEVER EVER

:
Sulfates, Parabens, Phthalates, Cocamidopropyl Betaine, Cocamidopropyl Hydroxysuitaine, Phenoxyethanol, Mercury ( and the 1,400 ingredients prohibited in the EU)
Your purchase helps fund various advocacies and access to safe products and advances in research and education that support healthy, happy lives for all.
GLUPAKO SOAP WORKS BEST WITH:
K Magic Brightening and Moisturizing Facial Wash   
 K Magic Brightening Micellar Toner Mist     
Share
View full details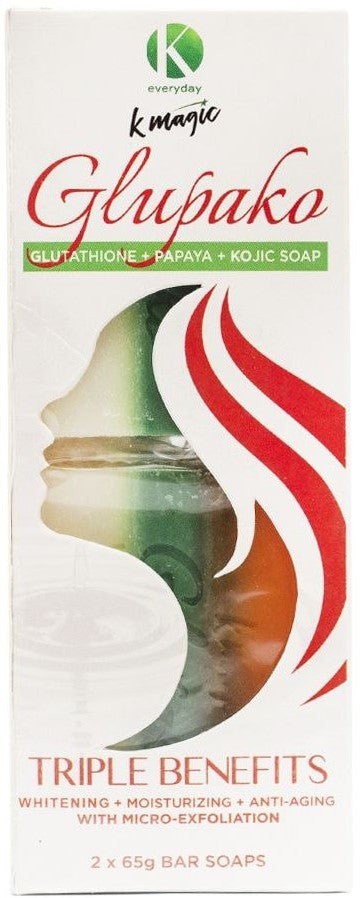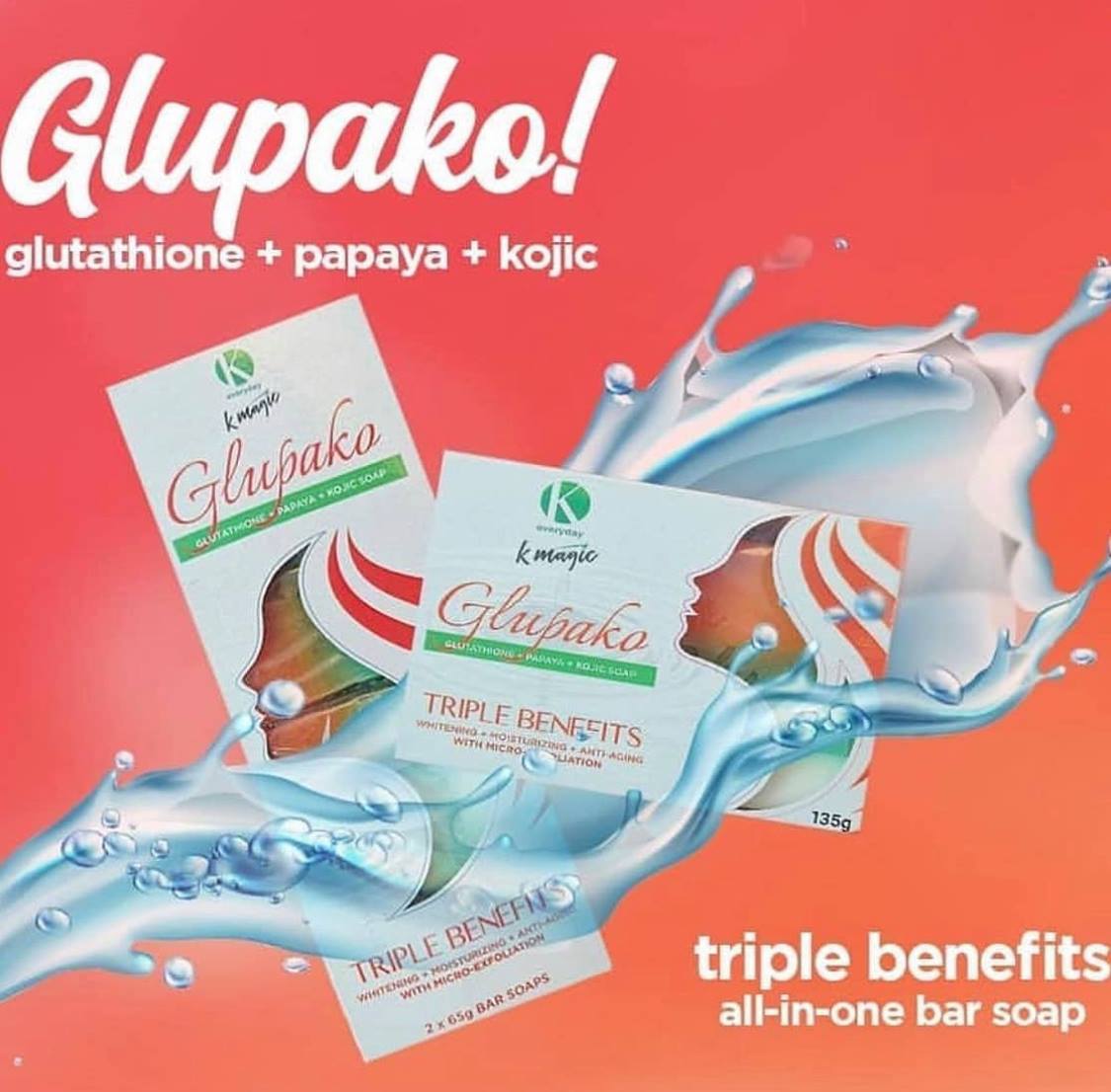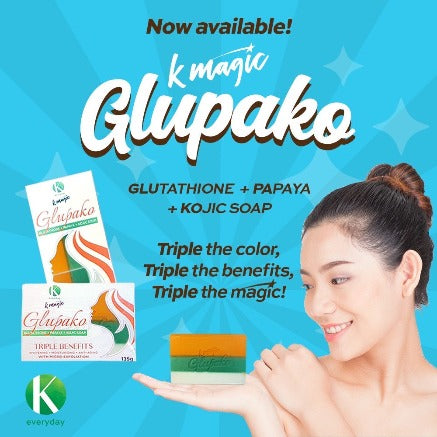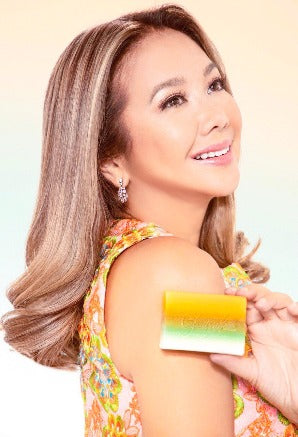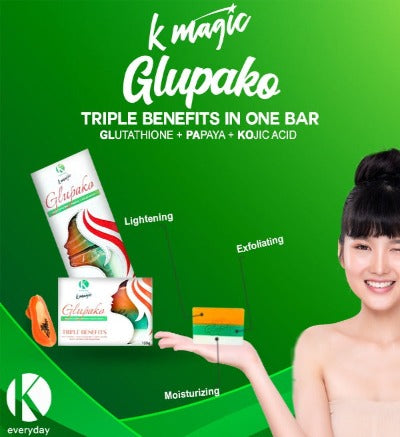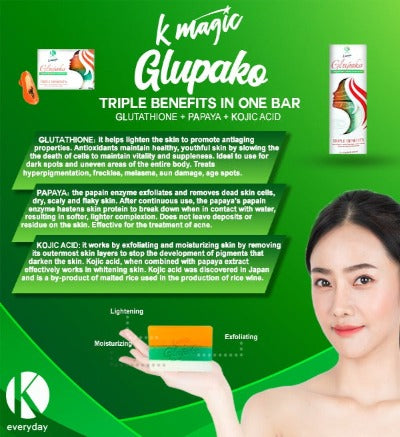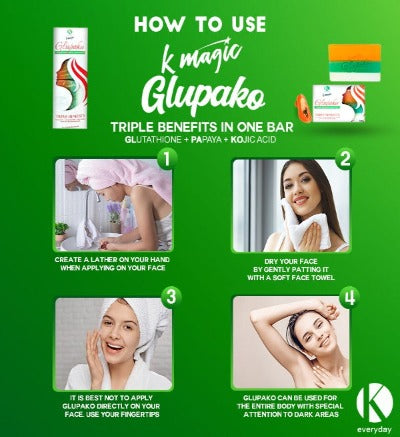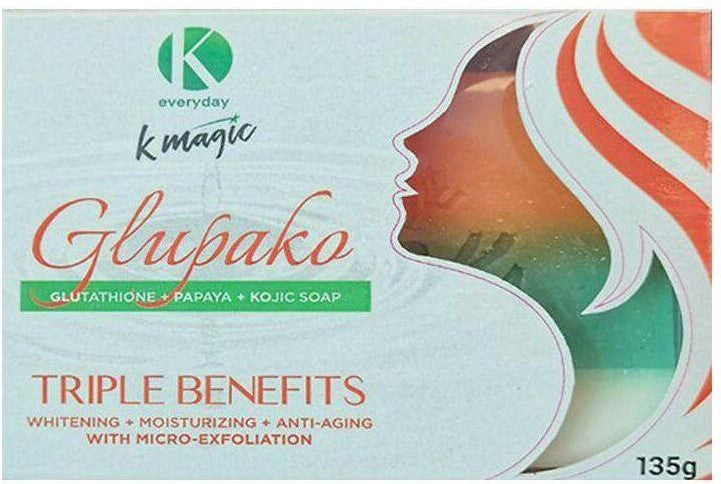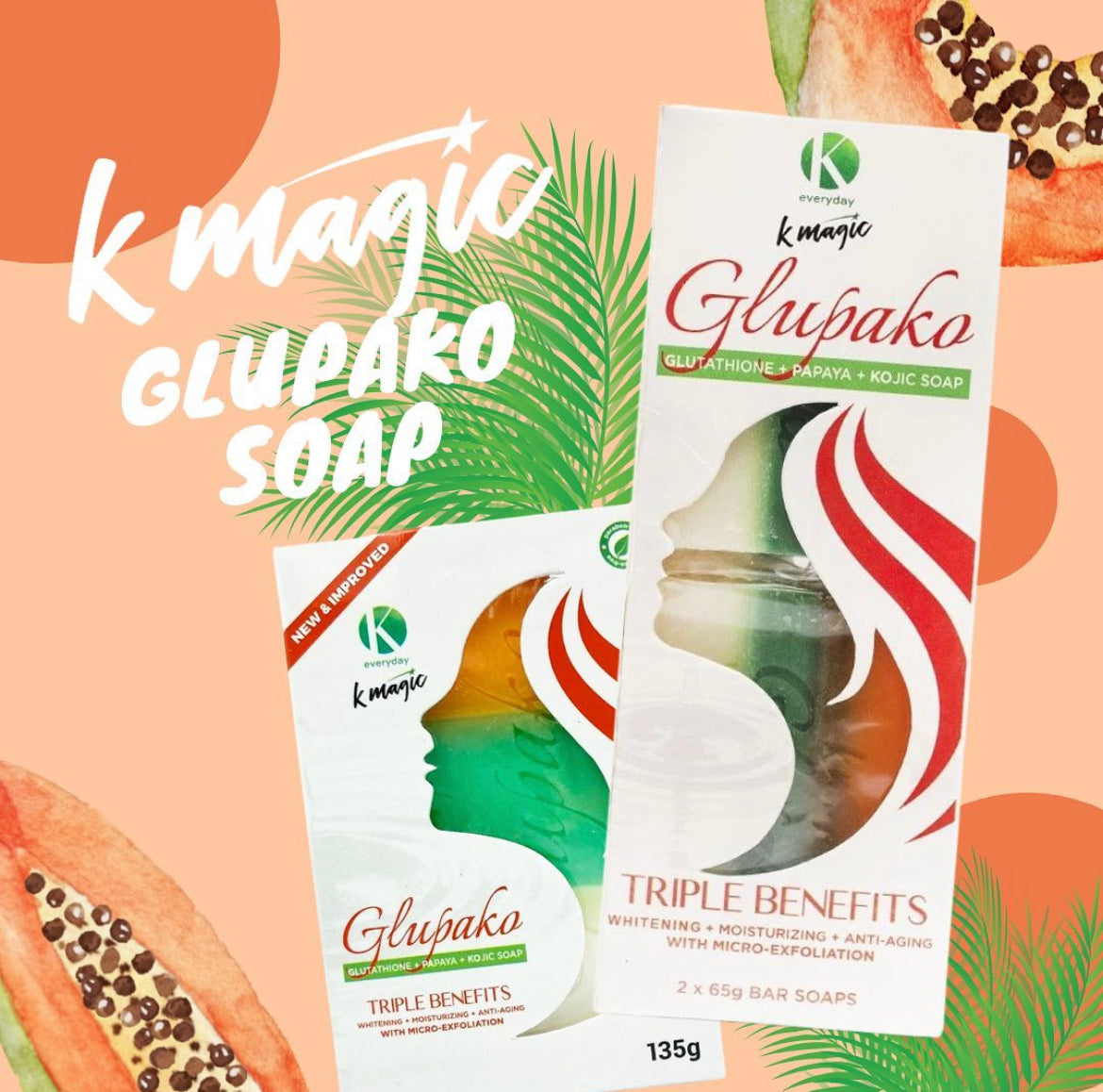 Too early to give review. No results yet.
Ideal soap for whitening
I've been using this soap for about 4months now, it's been working wonderfully for me as I've seen improvements under armpits, elbows and knees. It's a must have soap!
I really like the choices that are given. Great product.
GluPaKo soap ( now in 2 sizes)